I'm always curious to see how people consume content on the web. There are so many options out there and so much content to parse through, and new apps being created every day to help us do that.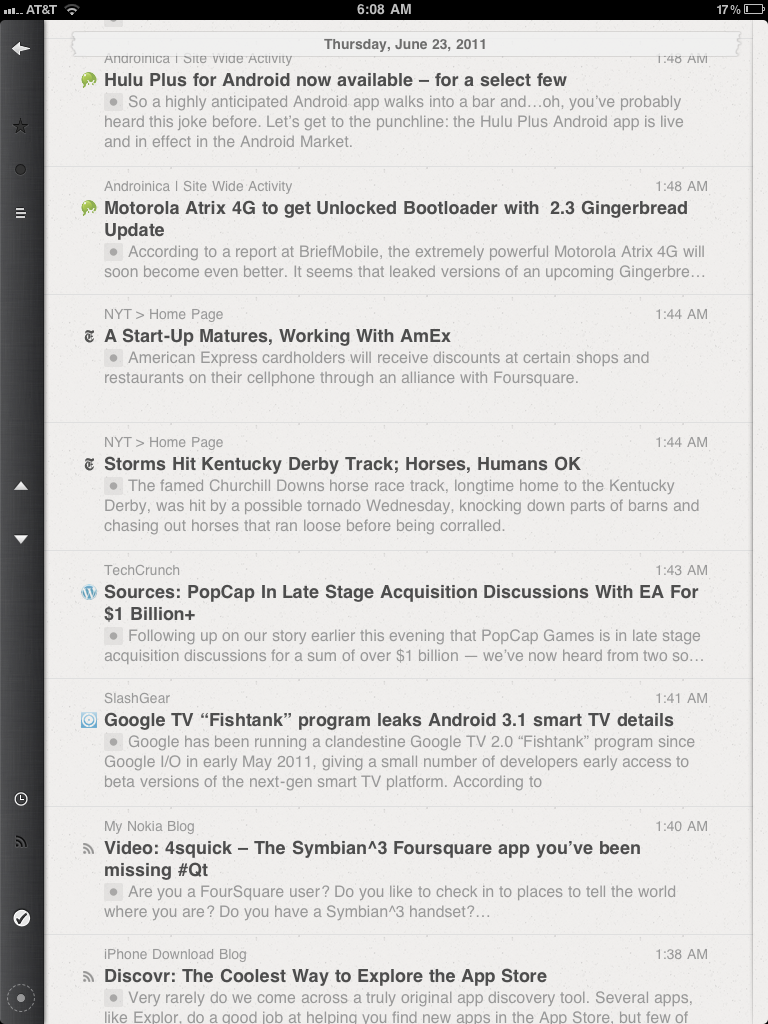 Below is how I consume news and content on the web (in order):
Google Reader via the Reeder app on iPhone and iPad. It will definitely make the list of my favorite apps this year. In fact, check out my iPad homescreen, you'll see it made the bottom dock, which is huge.
Summify via Gmail. I get a daily email from this service with the news that is most tweeted by my social graph. Love that.
ESPN.com. It's amazing how they keep me coming to that site. It's the only site I go to rather than preferring an RSS subscription to.
WSJ and NYTIMES iPad apps, mostly on the weekends. They are part of the reason I'm loving my iPad again.
Flipboard on iPad, but less and less every day. I used to love it but once the great UI wore off, it wasn't a fast enough way for me to get the most important news. Reeder far and away is better for me.
Twitter barely ever these days for news.  Though if fuels Summify so my social graph still very much influences what I read, but in the beginning of using Twitter I used it a great deal for getting news and articles.
Any news I do want to read, 95% of the time I throw it into Instapaper to read later. Or even read immediately after because the formatting on Instapaper is typically more conducive to the iPad (where I do most of my reading).
What are you using?