I'm a confused gadget geek.  I'm not ashamed to say it.  I love playing with new technology, testing the Windows 7 phone and the Samsung Galaxy Tab, and pretty much everything Apple.
I love the ability to have access to my "stuff" with the click of a button or swipe of a screen.  I especially like devices that allow me to connect to Evernote, pull files from Dropbox, access my email and contacts, post a new blog, etc.
So why then would I love my Kindle, when all you can do on it is…read.  Just read.  You can't really browse the web or even check email.  All you can do is…read.
Here's an example of what I do when I try to read a book on my iPad.  I fire up the Kindle app and start reading.  Two pages in I remember that I never replied to an email, so I flip to the email app and reply.  Then I notice a new email from someone so I check that out.  Ten minutes later I realize I was reading a book, so I go back to the Kindle app.  Where was I?  Oh yeah, I was at this paragraph.  Finish that page, wait what's that, an alert from ESPN that there's a close game going on?  Let me flip open the ESPN app to see how this game ends up…
And basically, my technology fueled A.D.D. doesn't allow me to sit down and just…read.  And its important to just focus and read sometimes, at least for me.
It's also super light and easy to travel with.  I've debated whether I want to travel with an iPad AND my Macbook Air.  I'm actually hopeful the iPad 2 is easier to travel with but for now, the Kindle is perfect to drop into my laptop bag without making an impact on the weight and bulk of it.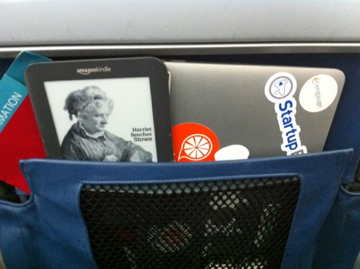 And I just realized how easy it is to send Instapaper (which I continue to love using) articles to your Kindle.  That just made this handy little reading device that much better for me.
Of course I'll be getting the iPad 2 in a few days and that could impact my Kindle usage, but for now I realize that I need this "distraction-less" device to keep me a little sane and to allow me to…read.