I'm starting to believe that we're finally going to see mobile move to the big kids marketing table toward the end of this year.  But not for the reason most people think.  Sure, all of our screens are becoming connected and the mobile phone is at the epicenter of it all.  But I think social is going to force marketers hands and make them take mobile seriously.
The root of my theory is that I believe social will see its biggest impact coming from mobile devices in 2011, and thus companies will no longer be able to pretend that "next year is the year of mobile." As people more and more use mobile devices to connect to their social networks, and companies more and more realize that social is incredibly important in their marketing mix (which shockingly is still something that some companies are struggling with), they'll have to start incorporating mobile strategies into campaigns. Social, in effect, is going to force the mobilization of marketing in 2011.
Brands spent 80% more on mobile ads in 2010 than in 2009. The launch of Apple's iAd mobile advertising network and Google's acquisition of AdMob have given mainstream credibility to mobile ads, making them a legitimate choice for mainstream marketers. In the year ahead, brands will spend over $1 billion on mobile marketing in the U.S. for the first time. Globally, too, the growth curve shows a significant arc. Google, in fact, has reported a $1 billion run-rate for its worldwide mobile ad revenues since late 2010. Marketers are responding, in part, to the rapid adoption of smartphones by consumers. Forecasts from Morgan Stanley suggest that global smartphone sales will outpace personal computers in 2012, just five years after the in the introduction of the first iPhone.
So we're already seeing mobile make major strides in both consumer usage and starting to make waves in advertising, though that is still just on the cusp of being relevant to a brand's marketing mix.  Social, however, has been a focus for marketers for a few years now and in 2010 we saw social become part of major campaigns, pulling budget from traditional channels and changing the way we connect with brands.
Look at this graph by emarketer.  You can see the tremendous growth we're going to see this and next year in social marketing spend.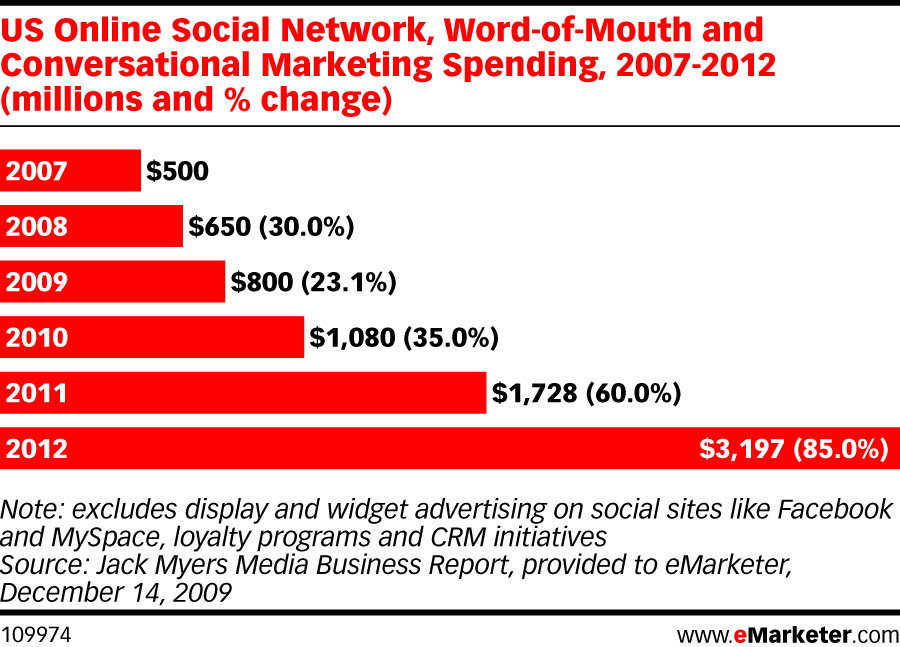 And with this kind of spending in social, and with people continuing to use their mobile devices to connect with their social presences…marketers are going to be forced to embrace mobile.  And while it might be a sideways effort to pull marketers into taking mobile more seriously, at least it will start the evolution.
Otherwise we'll continue to say: Mobile is our future…and always will be.