This time every year I share the apps and programs that I really enjoyed using during the previous year.  Typically there are only a few that make it an entire year, as you'll notice from my Products I Loved in 2009 post.
This year I'm breaking it up into apps on the iPhone I loved and then later software I loved, which I'll blog about soon.
We start with the apps that have made it through the past year on my iPhone:
Evernote.  This program just keeps getting better.  What I wrote last year: An amazing note-taking application. I run it on my Mac and iPhone and the syncing is flawless.  You can take pictures, jot notes or leave voice notes. Hoping in 2010 that they improve the ability to share folders/notes with other Evernote users, but hard to complain about this application other than that.
And they've made sharing notebooks easier, and they have a great iPad app.  So nice work in 2010, Evernoters ;)
Drop7.  What I wrote last year: This is an iPhone app that I can't stop playing and I'm like six months in.  Any other Drop7 addicts out there?  Personal best on the "Hardcore" level is 544,935. No idea if that's good or not but nevertheless, I'm addicted.
Only thing that has changed, my high score.  It's now 722,223.  Beat it.
Yep, those are the only two apps that have stayed consistently on my iPhone, other than the standard ones like Mail and Calendar, Google, etc.
The new ones:
TeuxDeux.  Ok, that IS on last year's list, but as a website I loved.  Interestingly, I noted last year that if they didn't get an iPhone app I'd probably switch.  They didn't, I did.  Then they finally got an iPhone app and I quickly jumped back on board.  Big fan.
Socialcast.  Nice little private social network.  The DIG team uses this to stay in touch and let each other know what's going on in the industry.
WeReward.  I prefer to use this over Foursquare and Gowalla still.  You make money, its fun. I've written a bunch about WeReward and did a podcast with them over the past year.  Oh, and sign up with my link so I get a referral point or two, its part of the fun ;)
Hootsuite.  I sometimes play with the other Twitter clients but this one sits firmly on the bottom, always there part of my iPhone so its clearly my Twitter client of choice.
Instapaper.  I actually can't believe I have never written about Instapaper on this blog before, but my search says I haven't.  I've been using this app/program religiously for a few months now.  See something on the web I want to read later.  Add it to Instapaper.  Get an email I want to read later (like an article forwarded), email it to my Instapaper account.  A google reader article…well, you get the picture.  They've now got a great iPhone app so I'm fully hooked.
Stuff I've been playing with (i.e. the verdict is still out):
Cinch, for quick podcasty like recordings.  Fun but I dropped off after a few weeks of playing with it.
Quora, which I've used to help create a few blogs, including Ugh, meetings and 4 points of view on creating a performance-based culture, is basically a Q&A blog type website.  It's getting a ton of press, people are calling it the next Twitter and the biggest thing to hit blogging since WordPress.  I don't get all that, but I do like it as a place to explore new ideas and interact with people.  It's a website first but I list it here because its an app/site on my iPhone that I've been using more and more lately.  So we'll see.
Audio Galaxy, a late entry thanks to @thorinhanson, lets you stream your music from a computer to your iPhone/iPad.  So far, really excited about it.
Oh,  and here is a screenshot of my iPhone homepage.  I always like to see what people have on their phone homepage so I thought I'd share: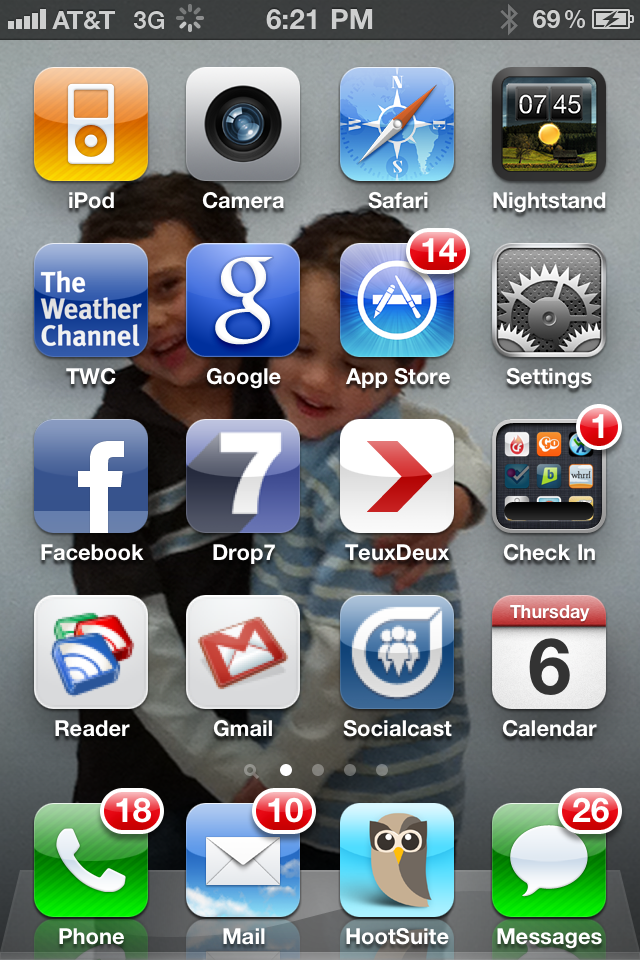 Anything you expected to see? And yes, @tessa, I considered Instragram but it kinda got boring for me real quick, but then again I'm not a photo-nut so maybe that's why.