I can't tell you how excited I am about the new Engauge office in Atlanta.  An office environment is incredibly important to the culture of a company.  Just ask Fred Wilson.
Why do I love our new space?  Well, for starters…
It's open as a mofo.  The setup here is incredibly open which promotes sharing and teamwork.  Having been in both closed, "officey" environments and open, collaborative environments, I can say unequivocally that if you want to have a creative atmosphere, "open" is the key.  And no, I don't have my own office, remember I swore that off?
Lots of break-out areas and scrum bars.  Ok, so I didn't know what a scrum bar was before we had them (see below).  Basically there are places all over the office that you can get a few people together and work.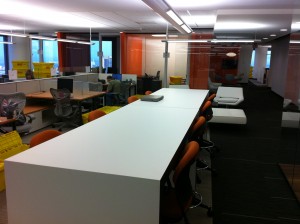 Screens you can plug in to everywhere.  This makes for great work sessions when you can plug your laptop into a monitor and work off the same screen.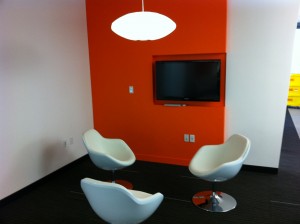 A frickin Consumer Engagement Lab.  It's sweet.  This is mandatory if you're focused on innovation (as we are).  It's a place where we have technology to get our hands into, things like game consoles (yes a PS3 and a Wii), we'll have iPads, Android devices, etc., and we'll have interactive TV's (GoogleTV, AppleTV, etc.), among other things.  Oh yeah, and we have a 3D TV in there too.  Basically it'll be a place for our developers to play Civilization 5.
Ping pong room.  An entire room.  Just for ping pong.  Let it sink in.
Usability testing room.  One-way glass, the whole nine yards.  A must.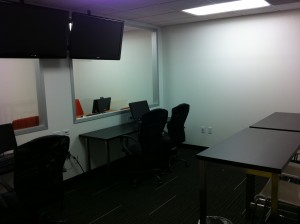 Most of the conference rooms have couches and stuff.  No kidding, how cool is that!?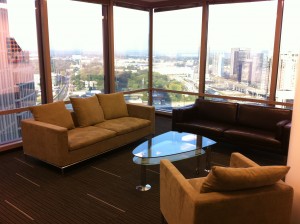 Fletch.  Every office needs Fletch.