I'm finishing up a presentation I'll be giving at the Digital Marketing Days conference in NY on June 16th.  There's a section of my presentation where I list six reasons why a company shouldn't be in social marketing.  The rest of my presentation focuses pretty heavily on the fact that almost everyone should be in social marketing.
So this is what I have for reasons you shouldn't be in social marketing.  If…
1. You're a greedy bastard
Point here is that if you are looking at social strictly as a way to sell people more stuff, you're missing the boat and should probably stick to telemarketing and email scams.  This channel is so much more than that.  And you're probably just going to crap it up.
2. You kinda suck
Social can't fix your crappy company.  Get your house in order first.  If your cameras break as soon as someone uses them, social isn't something you need to be worrying about.
3. Your business isn't right for it
There might be a chance, and I stress the word might, that your business isn't right for social.  I have a hard time thinking of an example, actually, and should probably strike this from the list.  Perhaps if your entire business is focused on selling to 85 year old people living in third world countries or something.  Maybe then you get a pass.
4. You've got nothing to say
If you truly have nothing to say, if your brand is boring and your customers are boring, then maybe social isn't the place for you.  And maybe if that's the case you should find a new company to work for.
5. You're just trying to keep up with your competition
You should never do anything in marketing (or business for that matter) simply because the other guy is doing it.  "Well our biggest competitor has a Twitter account" is not a strategy.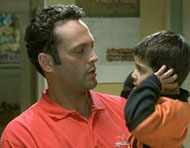 6. You bruise like a peach
If you can't handle the truth (damn you Jack for not allowing anyone to use that phrase without feeling slightly cheesy), then you probably aren't ready for social.  You have to be able to deal with the fact that some people are going to say some bad things about you.  They already are, actually, but you just have social earmuffs on and can't hear them.  So really this isn't a good pass for you, but there's a scary real world out there and you might not be ready for it.
Anything I should add to this?