Today I spoke at the Integrated Marketing Summit conference in Minneapolis. Kudos to Shawn for putting on such a great event.
In my session I talked about trends that I believe are shaping the future of digital marketing and the Internet at large.
Facebook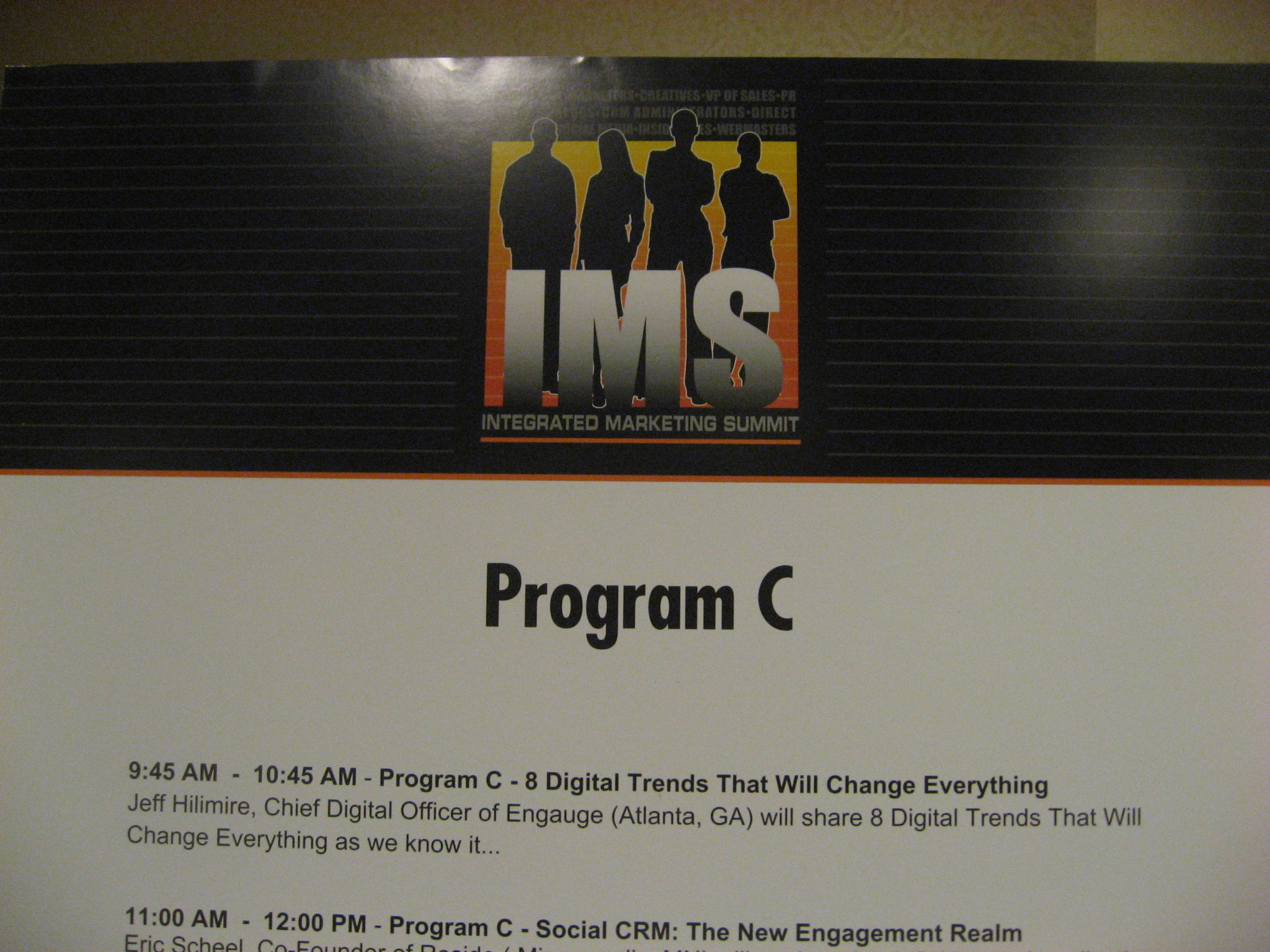 First I talked about Facebook. How can you not start with them when looking at where things are headed? Focused on the Open Graph  and various implications, including privacy, that come with that.
Lifestreaming
Next I talked about lifestreaming. People today are becoming more and more accustomed to broadcasting parts of their life online to their networks. Twitter, blogs, 12seconds.tv, ustream, are all examples of this. I also talked about sites like storytlr (which I didn't know had recently shut down) that help aggregate lifestreams into one place.  And I showed how my lifestream is set up.
Geo-location / Check-in apps
This lead to a section on geo-location and check-in apps. Or, "finally making mobile marketing relevant". I guess I should stop being amazed at how few people at conferences use these services today, but I always am.
Social Games
The last section was on social gaming. We talked about the massive amounts of people that play games like Farmville and what that means for brands moving forward.
What'd I miss?  Is there a big theme or two you'd add?
Additionally, these are a couple of main points I tried to emphasize:
– you must personally test and try new technology
– work to make your boss or the C-level suite uncomfortable. That means you're doing your job.
– look big picture at what these trends mean. Will Facebook be around 5 years from now? Who cares.  What we know is people are now comfortable connecting with their friends online and that's not going to change.
– don't let analytics or the lack of being able to fully quantify the results of social media efforts stop you from doing them. Fight to find new ways to prove it's worth — like impressions on your Facebook page posts vs advertising budgets.