About
Why Begin the Begin? Good question.  First, I'm a huge R.E.M. fan and Begin the Begin is one of my favorite songs of theirs (along with I Believe).  Both are on the amazing CD Lifes Rich Pageant
.  Buy that immediately and thank me later.
What I like about the phrase is that to me its a call to action.  It applies to startups and entrepreneurs.  It applies to marketers.  It applies to anyone that believes they can be something better but is hesitant to take that next step.  Begin the begin, people.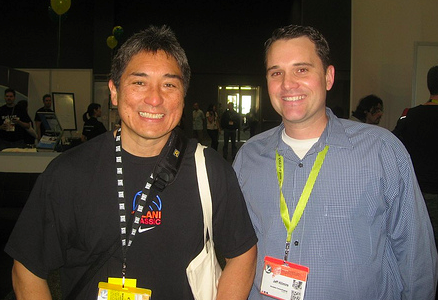 Me and Guy Kawasaki at SxSW
Who am I? I'm someone that's fascinated with entrepreneurship, startups, technology, the Internet and specifically mobile apps and gaming. I tweet, I linkedin, and I Instagram, but this blog represents who I am and where I am in life at any given time.
For the story of the first chapter of my career, you can check out this post.
I'm currently the co-founder and CEO of Dragon Army, a mobile app studio based in the Atlanta Tech Village. Previously I was President and Chief Digital Officer of Engauge.  In 1998 I started a digital agency in Atlanta (Spunlogic) with some friends and we were acquired by Engauge in March of 2008.
I'm in the 2013 Leadership Atlanta class and a member of the 2012 Atlanta 40 under 40 class. I'm also a founding member of the Shotput Ventures Team, a technology accelerator in Atlanta, and a part of the GA Tech incubator program, Flashpoint.
I'm also on the boards of Junior Achievement of Georgia and The Children's Museum of Atlanta (Imagine IT), two AMAZING organizations. I'm also on the marketing advisory board for Zoo Atlanta.