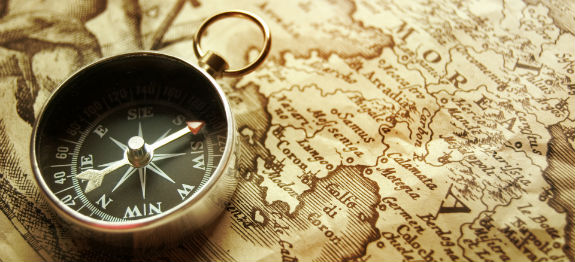 I was getting coffee with a friend of mine recently and we were talking about our entrepreneurial journeys over our careers. He was talking about there being times in your life when you use a compass and times when you use a map. It's an analogy that I think is incredibly appropriate – particularly for entrepreneurs – and I wanted to explore it further.
You use a compass when you generally know where you want to end up but you don't know how to get there (mainly because you don't have a map or because you want an adventure). So you head north because you know that's where the end is but you come across a river. Now you have to figure out if you can go around the river or how you're going to get over it. Or if the river is a sign that you're going the wrong way altogether. You have to adjust as you go and be ready to make course corrections at a moments notice.
With a map, you knew the river was there and before you reached it you had a plan of how to get around it. You can plot your course from beginning to end and while you may encounter surprises along the way, you can always go back to your map to regroup.
With Dragon Army, we are definitely relying on a compass because no map exists. Our goal is to create mobile apps for people to download that make their lives more fun or meaningful. While the team certainly has a great deal of mobile experience, this is a new ecosystem for us and we'll be learning every step of the way. The trick will be how quickly we adapt and if our "true north" is indeed the place we will ultimately end up.