Now that I'm an Android phone* guy, I figured it was time I shared my homescreen and talked about some of the apps I'm using. I'm really hoping that some of my Android friends will share the apps that they love as well, because I'm really only a few months into this whole Android thing.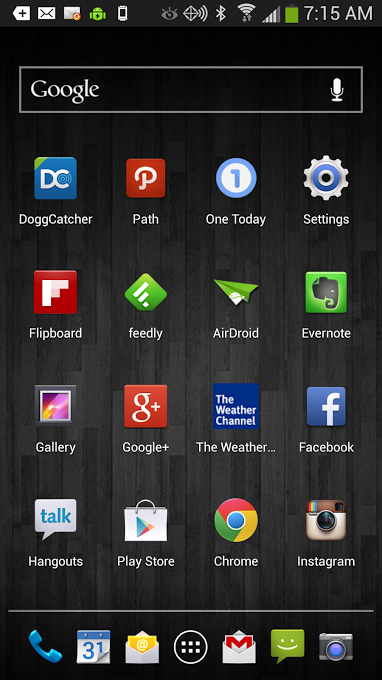 My Samsung Galaxy S4 (Android) Homescreen
The first thing I did with the Samsung Galaxy S4 was use the app Nova Launcher Prime ($4) to get the look and feel that I prefer. It allows you to tweak the dock and play with the layout of all the apps, their size, etc. This is one of the great advantages that Android has over the iOS world – you can tweak everything. Out of the box I really disliked the UI that the S4 came with so I was eager to install Nova Settings and fix that.
I also installed the SwiftKey Keyboard which allows you to customize the keyboard, another Android advantage. This app also learns you over time and will even connect to your other apps to learn your style and preferences. This was a @interpolate recommendation. Update: since writing this a few days ago, I switched back to the regular keyboard that comes with the S4. The only reason is that SwiftKey doesn't allow you to have the numbers row on top of the keyboard. With the larger screen of the S4, there is plenty of room for this so until they add that I'm likely going to stick with the stock keyboard. 
The homescreen apps
First of all, my staple apps all work great on Android. The biggest disappointment I have so far is the non-Gmail email app which doesn't allow for threaded conversations. But my other mainstay apps work great: Evernote, Dropbox, Flipboard, Instagram, Facebook, Path, and Feedly.
Hangouts: I'm becoming a big fan of the ease of video chatting that Hangouts provides. And the UI of it keeps getting better.
Chrome: It's my browser of choice on every device now. Syncs across all devices.
Google+: This is an interesting one. From a social network perspective, its still the land of the forgotten. I don't use it for "social". I like it for the integration of my photos/video (which automatically are backed up there) and for Hangouts. So I use it more for its functional uses than for its social capabilities.
AirDroid: I love this app as it allows me to control my phone via a browser. I can add files to it, text from it, etc, all from the browser. Great app for someone that comes from iOS where you're used to using things like iMessage from your computer.
DoggCatcher Lite: So far the best podcasting app I've found on Android. It's not brilliant and this is the one area that I've found lacking in Android compared to iOS. But it works, I get my PTI and The Herd podcasts there and that's pretty much all I need.
One Today: This is a great non-profit donation app that lets you donate $1 to a non-profit a day. You can also help crowd-fund by saying you'll match your friends up to $7. It's a nice, easy way to help the world a little each day. @interpolate also shared this one with me.
Apps not on homescreen
Google Keep: I'm working on a post about the reasons I like Google Keep and where it fits in my workflow compared to Evernote. You don't see it on my homescreen because I have a widget set up for it on another screen.
Easy Battery Saver: Great free app that monitors the battery and tells you what apps are sucking it dry. It also has several modes you can enter to optimize the battery life of the phone. Love this app.
Thread: Described as the ultimate caller-ID, this app pulls up all the last communications you've had with someone as they are calling you, including their last Facebook posts and tweets, so you can decide if you want to answer the phone.
* I'm still an Apple tablet and laptop guy. For the moment.
PS – Because I think its badass, here is my lockscreen.