One quick look at Twitter's growth over the past year will tell you that something is up.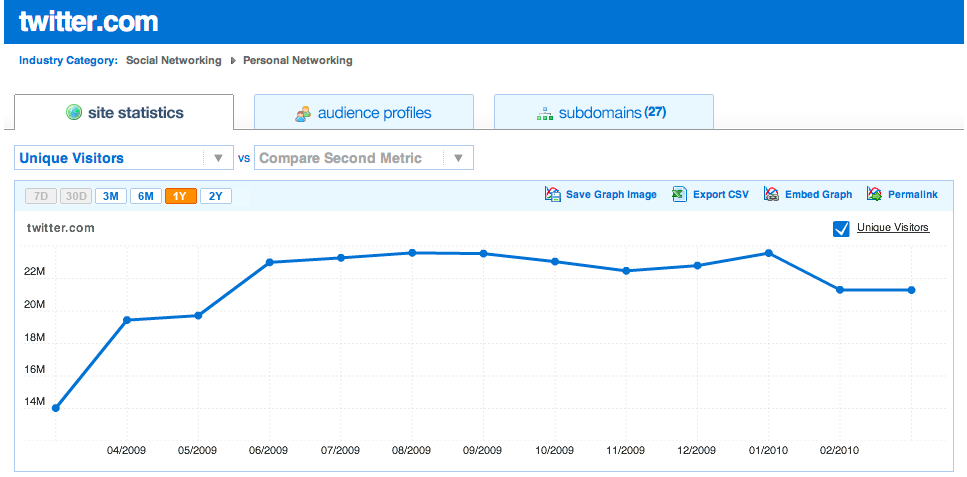 About nine months ago Twitter was seeing massive growth, but over the past 10 months the site has actually seen a drop in traffic.  Perhaps some of this could be attributed to compete.com not picking up mobile traffic?  Not sure how the compete.com algorithm works (anyone reading this know?), but you can see that Facebook had a similar growth explosion a year ago but is still steadily growing according to compete.com, and the number of people connecting with Facebook on mobile devices is growing in leaps and bounds.
Some interesting Twitter facts, compliments of Social Media Today:
* 87% of Americans 12-and-over are aware of Twitter
* Of that same group, only 7% are using it, which is roughly 17 million people
* Twitter is huge in the African American community, making up 25% of the users
* 53% of Twitter users never post anything.  Ever.
It's that last stat that makes me worried for Twitter's long-term health.  If over half the Twitterverse is  using the medium only to listen and probably barely doing that, what does that mean for a service that is built on the idea of quick, engaging communication?
Personally, I love Twitter.  But then again, I've loved many services that over time weren't able to hang in there.  I'm hoping that Twitter finds a niche and is able to become something that can last the span of time.  But at the moment, most of the signs I'm seeing point to that not being the case.