This just in: Twitter is popular as hell, folks.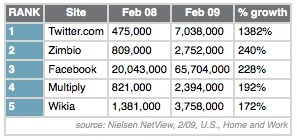 As I look at this I ask, what is the tip of the Twitter growth graph?  Facebook has been growing at an amazing rate for a LONG time now.  Can Twitter keep this up?
But the real question to me is, what are the "usage" growth numbers?
Big difference there over just the number of people that have started using the service.  With Facebook, people are more hesitant to sign up and try it out.  Feels like a big commitment.  But once they do, typically they immediately connect with a few friends that they were out of touch with and BAM, they're hooked.
Twitter is the opposite.  Most people aren't worried to sign up, so they do, and BAM, they're incredibly bored.  No one is talking to them, they aren't hooking up with old high school friends, and its not that easy to get conversations going out of the gate.
So I question these statistics because they only represent the interest level of Twitter, which is off the charts.  Everyone is talking about it.  I can't watch TV anymore without seeing a mention of Twitter in either the commercials or the program.
But the growth of usage isn't anywhere close to these numbers, and that's what worries me.