It's an interesting question, isn't it?  What would you rather have, a consumer that buys your product or a consumer that interacts with your brand online and tells all their friends and contacts about it?  You'd think the two would be mutually exclusive, however a new campaign by the Mountain Dew folks has me wondering if it has to be.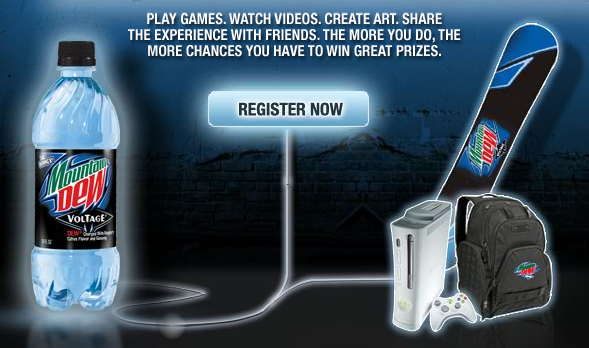 The new "Voltage Everywhere" campaign by Mountain Dew asks consumers to "play games, watch videos, create art, share the experience with friends" and based on that behavior you earn points.  What's new about this is, they aren't only rewarding you for buying the product, they are rewarding you for interacting with their brand and sharing that experience with your friends.
In this new model, one doesn't have to drink Mountain Dew or even like the product.  I have to believe that somewhere there is a snowboarder that doesn't drink Mountain Dew.  I'm a good example, while I don't drink Dew much anymore, I am interested in racking up points to win a snowboard.  So I became of fan of the Mountain Dew Uncapped facebook page, and voila, I got 3 points added to my total.  And now, all my friends on facebook saw that I became of fan of The Dew.
This is to me a radically different attempt to tap into social marketing and using the power of the social web to sell a product.  And I'm going to guess that if I continue to earn points on their site, that I'll end up being a more valuable consumer to them than if I bought a can of Dew once a week.